Before I painted my first mural, the whole idea was enticing but daunting to me. I was, after all, mostly a digital artist and the largest traditional painting I had ever done was no bigger than a sheet of paper. Would my skills really transfer? I shuddered as images of the Botched Ecco Homo Painting flashed through my mind :) 
When I was approached in January 2018 with an ideal mural project, I decided to put my all into preparing for it. I read articles, watched videos, and did a test run at home. Looking back, kicking off my first experience with such an ambitious design was a bit crazy. Thankfully it all turned out well: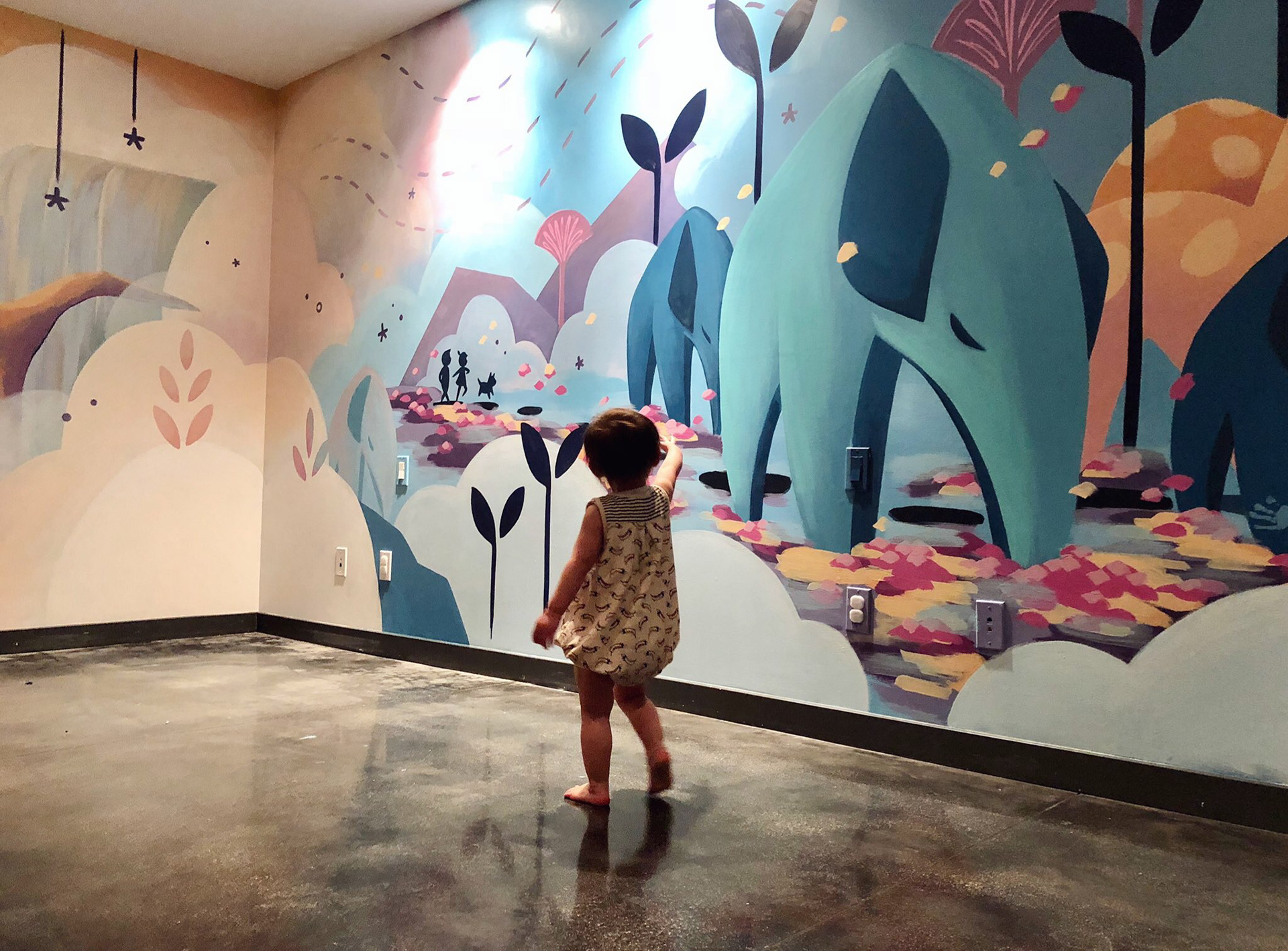 Recently I was able create my second mural, this time for the offices of Hotel Bel Air. It was a wonderful experience. 
Now that I've completed my second mural using more or less the same process, I want to document what I've learned in case it is helpful to others.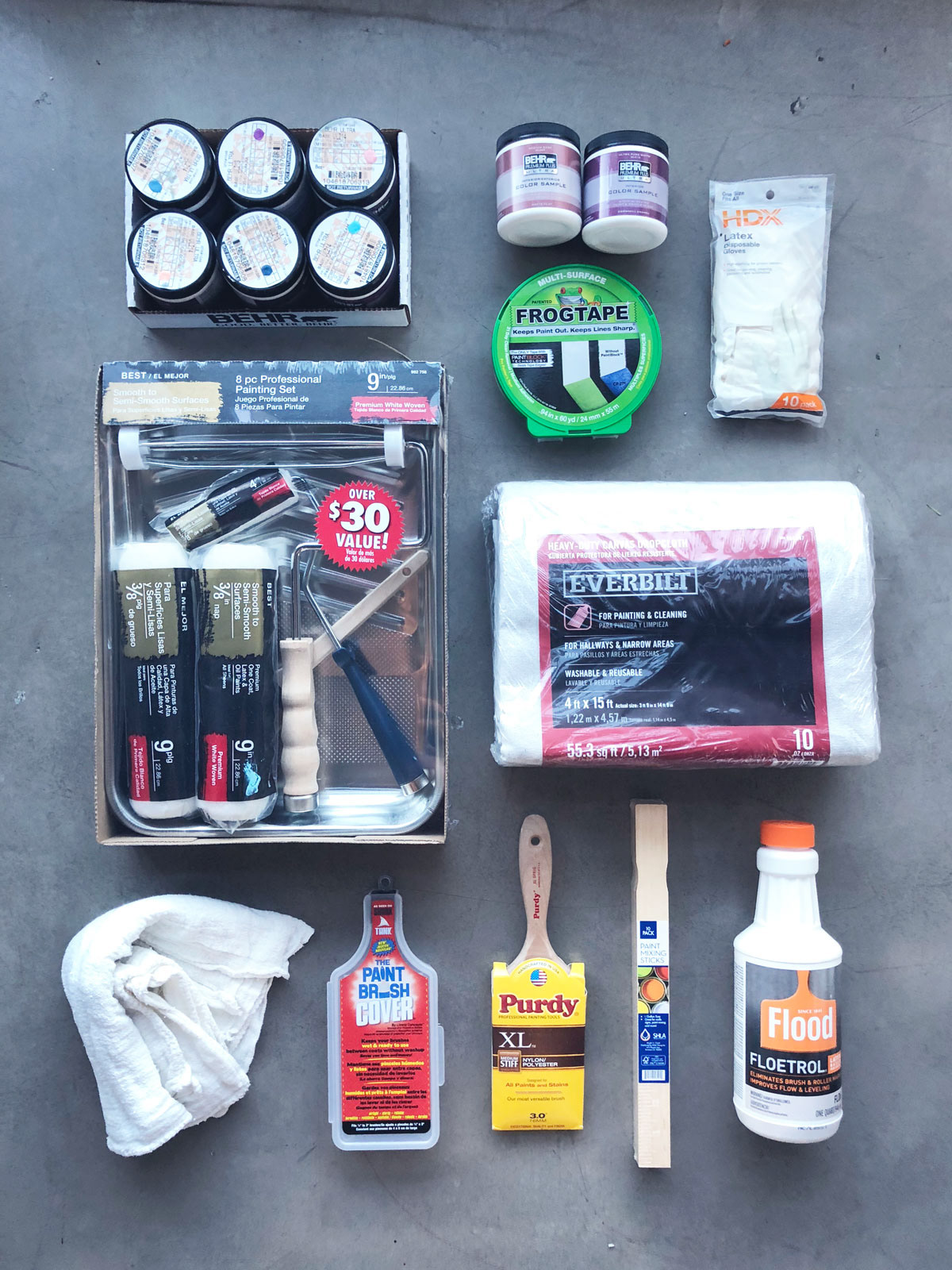 Design Process
Initial Meeting

. I start the process much like any other illustration design project. I have an introductory meeting where I listen to what the client wants, focusing on the feeling they want the mural to create in the room. Working together, we put together inspiration references on a Pinterest board, including examples of what they

don't

want. I find this latter point equally helpful.
Sketch Phase

. Once I have a good handle on what they have in mind, I create a few design directions. Some are literal interpretations of their responses, but some based more on my own gut feeling of what they might be truly looking for. 
Design in Context

. I try to design on top of photos of the actual wall, which I find really helps put the mural in context. The client can more easily see that something they liked in someone else's space isn't quite right for their space. For example, in this case they thought they wanted an abstract floral mural with muted colors. But upon seeing it mocked up, they realized it wasn't quite the right feeling for them.
Note: Context is super important for all design. I advise my junior designers that when presenting for reviews, in addition to showing the design itself it is important to show it in context by making mockups.
Iterating Through Collaboration

. I come up with several directions and we iterate until we get to a design the client is happy with. Sometimes this is quick, sometimes this takes a while. I always make sure the client feels assured we will get to the right place. Getting through some ideas you don't love is all part of the process! 
The final design we chose was my personal favorite, and felt at once very them and very me. I was thrilled about this because we started off on a very different foot, and we had to find a solution in a very short amount of time.
Finish Design

. I finish the mural design digitally using Procreate and some Photoshop. I use this as a road map for the physical painting.
This step has several benefits. It ensures the colors work. It gives the client a lot of assurance on how it will look in person. It solves a lot of problems up front rather than day-of. And of course, I can use the file to project the design onto the space, ensuring an exact fit.
​​​​​​​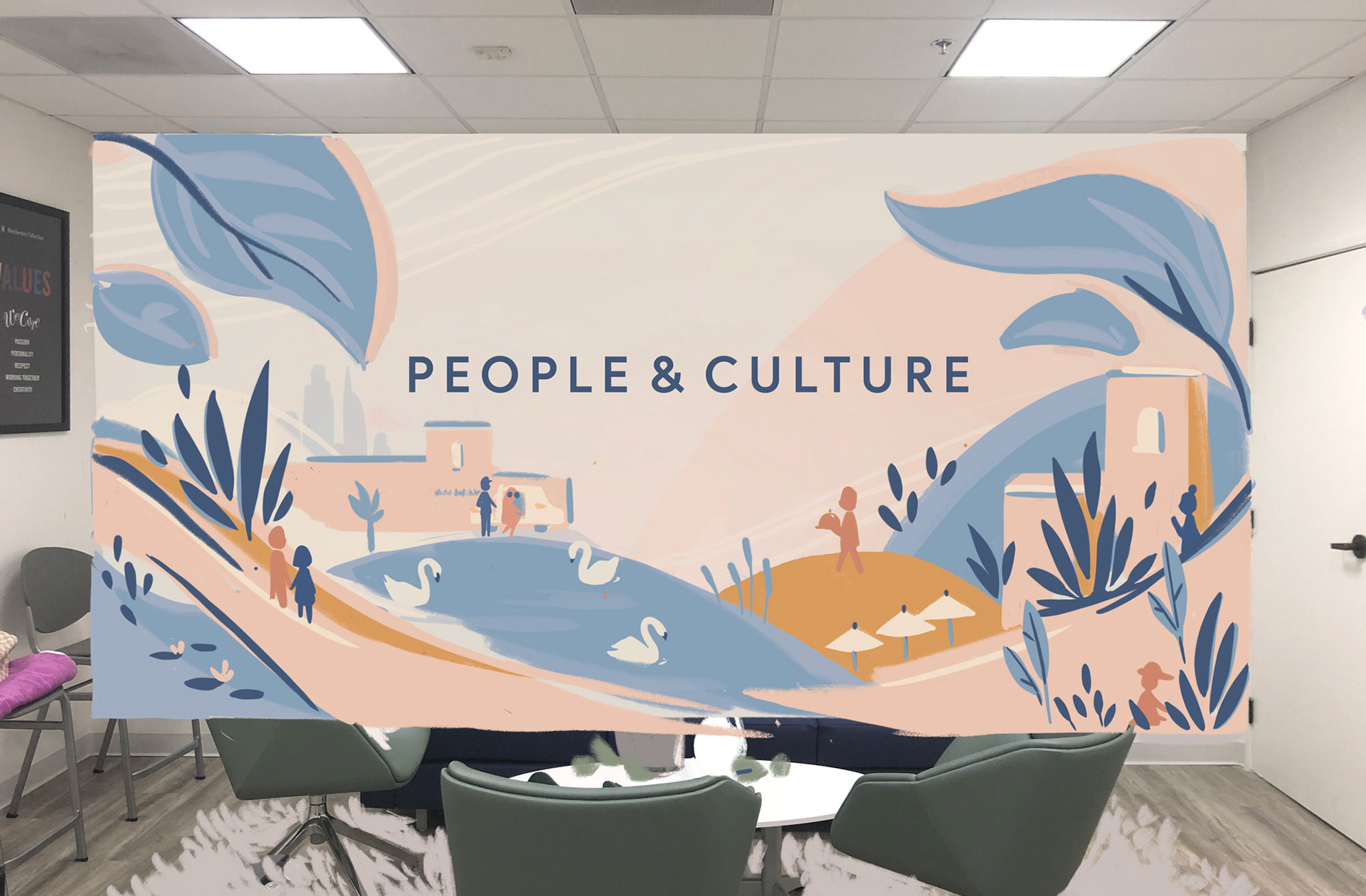 Mockups I created for the client for final approval using Procreate and Photoshop. I included a mockup with and without furniture. The mural was design to fit around the couch, but I wanted to paint it all the way through in case they ever rearranged. The client really appreciated this extra thought, and is now sad some swans had to be covered ;)
Prep the Space

. Clean the wall, paint your base layer if needed, and tape off the sides with Frog Tape (a better brand of painters tape) to protect your walls.
Project the Design

. I use a projector to get the lines of the main mural on to the wall. Della helps me with this part, using an Epson projector. I did this with my first mural too and it really helped me bridge from digital painting to mural painting much more confidently. I've seen videos where muralists will block it out by squares but this is much faster to me. 
- Note: For the smaller paintings, I skipped the projector and freehanded the drawings with a pencil line while referencing a mockup I had done on the iPad.
- Tip: I would use a pencil or charcoal pencil that is easy to rub off cleanly. I used a normal pencil this time and just painted over the pencil lines, which works fine too, but is not as straightforward.
Prepping Colors.

 I use Behr Premium Ultra house paint for my murals in an eggshell finish. I think it works wonderfully for my purposes.
I select pre-mixed colors that are as close to my design as possible, but I still end up having to custom mix my final colors.
Important Note: Paint goes on much lighter than it dries, i.e. it gets darker. So you'll want to paint a swatch, let it dry, and confirm it matches your design. I test the colors in an area that will be covered or not very noticeable.
Once you have it right, make sure you make a good amount of this color and save it! See my tip below re: Ziploc containers. It's really hard to remix and match a color perfectly again unless you record very careful "color recipes," which maybe I'll level up to one day :)
A Note on Lighting

. One potential challenge is lighting. A color can look great on your digital painting and come out really different under the light of the environment. I had to mix probably ten different orange colors to get that color right under the office's lighting situation. 
And it's a bit relative; one of the orange colors I mixed technically matched what was on my screen if you put it side by side, but as I looked at it on its own, another slightly different orange gave the matching

feeling

of my design. That is harder to explain, but go with your gut.
Painting.

 I paint in layers,  meaning I'm not painting the whole mural straight on as you see it. I actually paint out the entire back shapes, let them dry, then paint on the next layer. It's good to plan ahead on which layer order to go in, so you stay efficient. 
Painting it through gives me some really clean lines. However, I 
did learn from the first mural that it's better not to paint too much of the back layers that you won't end up seeing, as the paint gets really thick and harder to manage towards the end. So it's a balance.
In my first mural, I finished it off with some acrylics and it gave it some extra shine and texture, but it wasn't needed here.
​​​​​​​Behr house paint is really surprisingly forgiving, in the sense you can paint on the wall and wipe it off right away without any residue.  
- For brushes, I found I could paint pretty much the entire mural with a set of high-quality stiff angled brushes you can find at any Home Depot. People were surprised I was painting with these vs. artist paint brushes, but the control for me on the large walls is really superior. I use small brushes at the very end for extreme details and corners, but really it's about 1% of the mural.
- I relied mostly on the sample size Behr cannisters, which are pretty affordable. You only need the gallon size for your base color that covers all of the wall. The smaller containers go a long way and are easier to handle.
- Microfiber towels are so great. A huge pack is really affordable. I use them to clean brushes and wipe off paint.
- Muffin pans are surprisingly awesome for mixing colors here. Ziploc's Twist & Save round containers are also perfect for saving paint. Sometimes I mix it straight into these containers if I know I need to save a lot of the paint.
- I also highly recommend Floetrol which is a paint extender. It prevents clumping and brush marks.
- I will say painting a large mural is physically tiring. On the one hand I could paint for 14 hours straight and feel mentally energized, but I was definitely sore the next day even though I work out. Just keep this in mind as it's easy to forget this is a physical activity!
Finishing Touches

. In this project, the client decided that they wanted the letters to be put on decal. I could have painted it as well but I thought this turned out great—it's a nice crisp contrast to the flowy hand-painted imagery. I used the time it saved me to add some mini moments around the room, which was a much better pay off to me :)
Here's how the final mural turned out:
Behr Premium Plus Ultra Paint, various
2x Flood Floetrol (paint extender)
8 pc Professional Painting Set (or anything similar, includes a large roller, small roller, paint tin, small brush)
Extra rollers and paint trays as needed
1x Purdy Angle Sash in 3 in, 2 in, 1.5 in, and 1 in. I used the smaller ones a LOT. 
Small artist brush set, angled and flat for detailing
2x Paint Mixing Sticks Pack of 10
1x Frog Tape
5x Ziploc twist & loc 16oz. Round containers pack of 3
Floor canvas covering
Ladders depending on wall size
Two large buckets (for water)
Various Jars (mason jar/pasta sauce size) (for water)
Microfiber towel rags (very handy!)
Projector (if needed)
Pencil for outlining drawing (if needed)
The following are some questions I selected from my Instagram comments :)
Q: What materials should beginners have and what should I look up to start off ??
A: I've definitely seen friends with little to no art experience pull off some Pinterest-inspired mural walls. I would start simple with big shapes that are easy to tape off, e.g. mountain triangles. Good house paint is more than enough to do the murals. Rollers are good to cover large flat areas, and the angled sash brush is highly recommended for the rest.  Cover your floors with canvas, have a damp microfiber towel handy, and you're ready to paint!
Q: Can you share with us what kind of brush and paint you use? And if we want to try painting walls at home how can we do so and not creating toooo much mess?
A: See above re: Behr premium house paints and Purdy stiff angled sash brushes. It's really not too messy if you get some roller brushes, a large sheet to cover the floor, and buckets of water. House paint really wipes off really easily and cleanly when it's wet, it's surprisingly forgiving.
Q: How do you get the edges on your lettering so clean?
A: As I mentioned above, in this situation the client wanted to use a decal for the text so that's how it's so perfect :) I recommend it for text that is just a font, and it's a nice contrast to more playful illustrations. 
However, if I wanted, it could be done by paint too. This is how I would do it. Behr house paint is very forgiving so you can wipe it off after you paint it on, pretty cleanly. So I combine a process of wiping off to get slick edges, and then painting over those areas with the background color as needed to get those really crisp points you see in the mural (save your paints!). You can also tape off the straight parts to make it easier to get straight lines.
Q: What is your paint preference and how do you keep from using up too much paint at once? I'm new to the painting world and I have encountered these things I've never had to ask before. Like do you thin out the paints, or prime the canvas/wall... etc.
A: Honestly I spent so much time researching these questions for my first mural and bought so many acrylic paints and acrylic paint extenders, only to find that house paint totally works fine and is ready to go. Prime your surface by making sure it's clean and has a nice base layer paint. I did not thin the paints at all other than to add Floetrol to extend its usefulness and minimize brush strokes.
Q: How do you prep for a large surface like so & visualize that the images work in that scale? Did you use a projector? Did you have to swatch colors? Did you have all colors set prior? Did some colors colors not work out midway that you had to swap it out for something else?
For me, I design digitally on top of a photo of the space. I then isolate the design and project it onto the wall, outlining the design with a pencil. I mix all the colors and test them on the wall. I have not had to completely swap out colors midway since the digital design part ensures it is going to work as long as I get the right colors mixed under the actual lighting. That latter part is the tricky part! 
Please note I can only speak from my experience as someone who is mostly a digital artist and then decided to take on huge complicated murals as a first-timer, and had it work out.I hope this is helpful to someone who is navigating the same journey :)
Update 10.10.2019: I've create a video tutorial series on my mural design and painting process on Skillshare. You can find it here.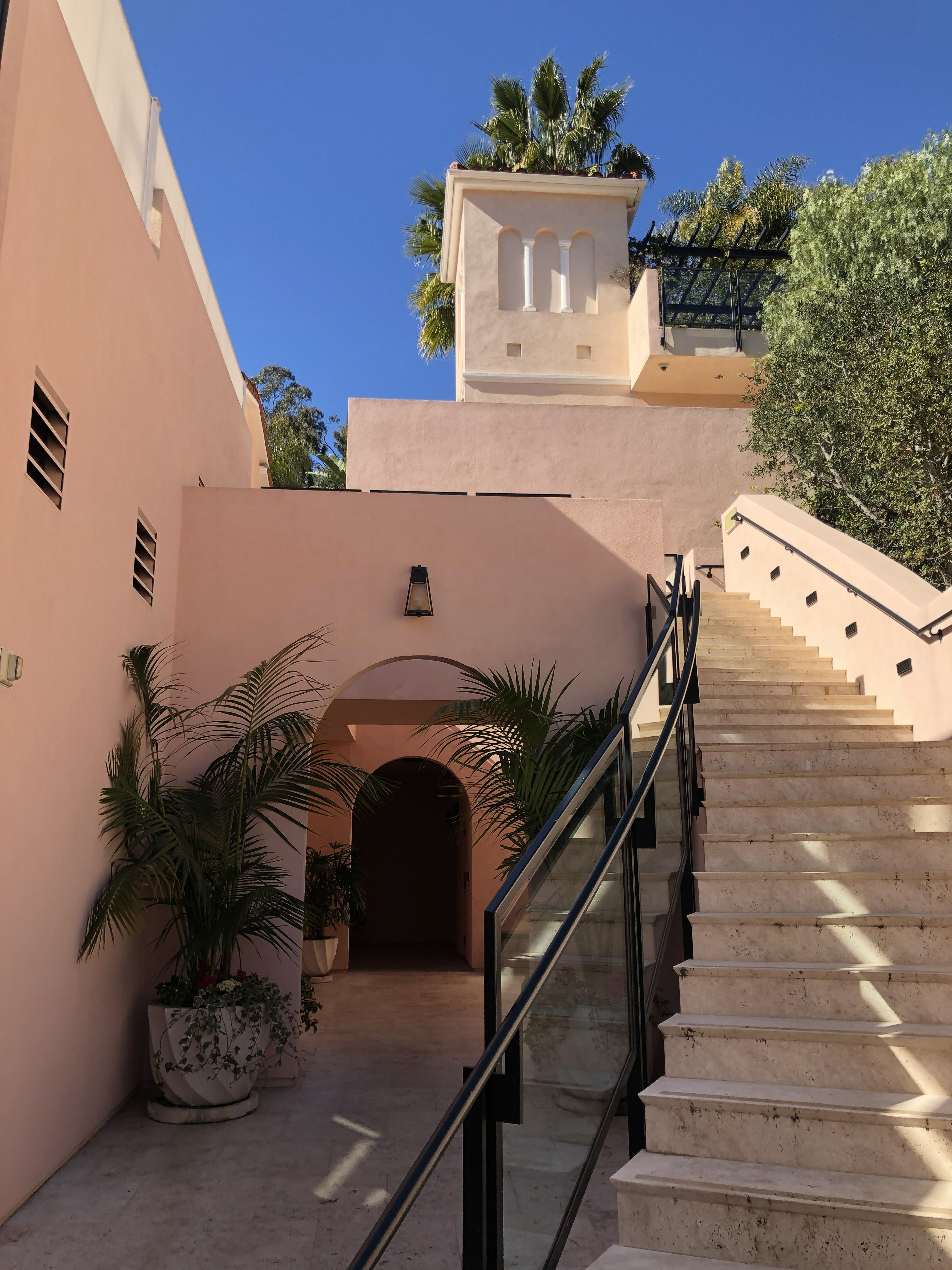 Last but not least, a very warm thanks to Hotel Bel Air (especially Tiffany and Eugenia) for the amazing hospitality. The hotel really goes above and beyond.