Why I chose Skillshare as the platform for my video tutorials.
From my February 6, 2017 Mimochai blog entry, with some updates 10/9/2019:
I'm an avid self-learner. Besides drawing and painting, I have taught myself basic coding, video editing, and pretty much anything I have to do for my studio business. I have tried many of the online learning platforms such as Lynda, Udemy, YouTube and Skillshare. While each has their merits, I personally prefer Skillshare the most for design & illustration-type courses. 
Here's why:
1. Good Learning Structure 
I like how Skillshare structures their courses. In a typical Skillshare course, you learn skills through specific projects, which are broken up in to bite-sized videos that tend to be 2-10 minutes in length. So instead of a long course like "Master Photoshop" you get something more digestible such as "Create a Logo Mascot in Photoshop" (that also made it more accessible to me as a teacher, more on that later).
I want to clarify that I did not learn drawing and illustration on Skillshare (for more on that, you can refer to my new 
Learn! page here
). I've used it for more specific projects like creating patterns, vectoring a logo, and also general inspiration like learning the process of a designer I admire. I am looking forward to taking some after effects courses for basic animation next.
Another nice feature is that you can upload projects to get teacher/classmate feedback (which I think makes it very different from YouTube). There's a good intimate feeling of community here. 
2. Good Content, Good Suggestions
Some of my favorite illustrators and designers have courses on Skillshare, such as 
Roman Muradov
, 
Lisa Congdon
, and 
DKNG Studios
. Skillshare is constantly adding great new content, such as this latest one featuring highly-regarded 
designer & illustrator Seymour Chwast
 of Pushpin Inc. (and now one by amazing illustrator-designer and one of my absolute best friends,
Jennet Liaw
!) There's a good system of class recommendations such that I'm never short on classes that I'm looking forward to in my queue. I didn't see this level of confluence on any other platform.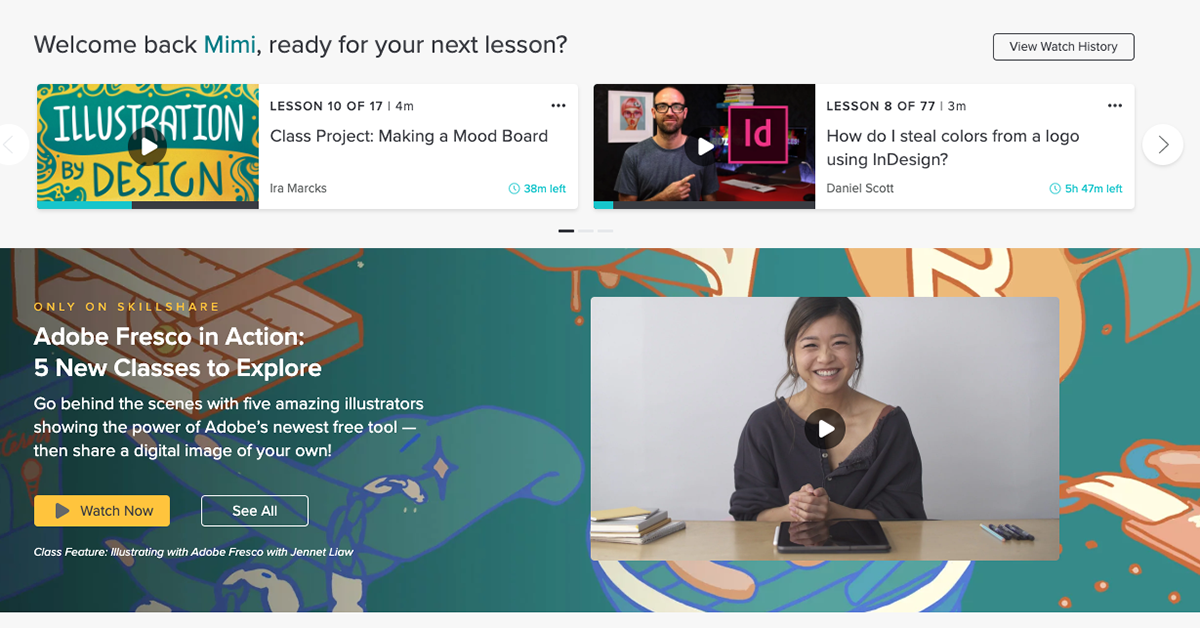 I will say that as their platform grows, I find there are inevitably more and more "noise" classes that are not all of equal quality. However, it's pretty easy to filter past these and find lots of great quality classes. Although it's an open teaching platform Skillshare seems to work hard to have a system that rewards good content and discourages poor quality videos.
The design of a platform really affects my experience of it. I think that must be true for most people, consciously or not. I like Skillshare's clean, friendly vibe. They seem to be constantly trying to improve on their platform, but in general I find their browse/discovery/search system to be easy and helpful. For some reason, other platforms like Udemy and Lynda felt stiffer/less friendly to use.
4. Amazing Support for Teachers
I started as a regular Skillshare student before I made any courses, so I'm writing this mostly from the perspective of a student. Here are my thoughts as a "teacher."
I've known for a while there are lots of avenues to do tutorials/lessons, including through YouTube. However, I didn't/don't consider myself qualified to teach an entire subject. When Skillshare positioned it as "share a skill you have through a specific project," I thought hey I could do that. I'm just doing a project in video form. I signed up for a New Teacher Challenge last year and was surprised to have over 1,000 students enroll with a 99% positive rating, so it encouraged me to make more. 
I make my classes free to my social media followers the first week a class is available, and I earn nothing for free enrollments. So I'm not trying to sell something here. With that said, I will vouch for Skillshare's treatment of teachers. They really try to provide a supportive, encouraging environment for teachers to make videos and grow their channels. Besides hosting New Teacher and Returning Teacher Challenges all the time, they personally reach out to you to encourage your potential. All the teachers on Skillshare also seem to be super nice, so as a freelancer it's nice to have that extra community.
And after all that, one of my classes is now at over 10,000 students (the one on Illustrated Journaling), making it one of the most popular Skillshare classes. Skillshare has also since flown me to NYC to present at a company-wide meeting and paint a mural for their offices. All of that's so crazy! And rewarding.
- Tailor to Your Learning Goals. 
I think if you're aesthetically-minded like me looking to pick up design/illustration skills in a fun environment, you'll like Skillshare. It's a reasonable cost for all the content you are getting. That said, if you are looking to learn coding or take university-type courses, other sites such as Treehouse and Coursera may be better (and anyway, the latter is free). Or, if you just want one specific class, a one-time purchase model would be better for you than a subscription model.
- Self-Learning Depends on You. 
You can learn so much for free these days, it really just depends on your own drive and motivations. I think there's plenty of free content on YouTube that is great, just takes a bit more digging and has more distraction. I provide some of my favorite drawing resources
for beginners here
.
- Supplement Strategically.
 School can get very expensive. I already went through law school and don't plan on going back into debt for art school. However, some specific in-person classes can help tremendously once you figure out what you really need. Besides online learning platforms, I have taken individual art classes at Art Center at Night, and plan to try Concept Design Academy this year. I also purchase books by industry leaders such as 
How to Draw
 and 
How to Render.
I hope that is helpful! Stay curious -MC